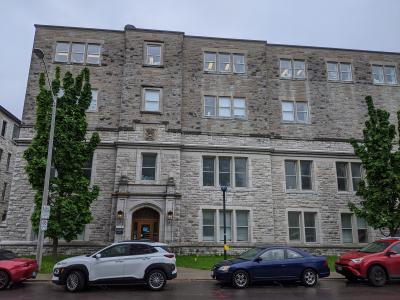 The Southeastern Ontario Medical Organization funds six new projects to help fight the global pandemic.
From https://www.queensu.ca/gazette/stories/innovative-research-advancing-understanding-covid-19?utm_source=e-queens-gazette_staff&utm_medium=e-newsletter
Modifying existing antiviral drugs for better outcomes and revealing the mechanisms of a mysterious blood clotting syndrome are among six new COVID-19 research projects being pursued by researchers and clinician scientists at Kingston Health Sciences Centre (KHSC), Kingston General Health Research Institute (KGHRI), and Queen's University. The research is supported by funding totalling $670,000 from the Southeastern Ontario Medical Organization (SEAMO).  
"These researchers are recognized as leaders and innovators in their respective fields, and their work has the potential to significantly advance global understanding of this complex and perplexing disease," says Dr. Steve Smith, Vice-Dean Research, Faculty of Heath Sciences, Queen's, Vice President, Health Sciences Research, KHSC, and President & CEO, KGHRI. 
The list of funded projects is below: 
Paula James and David Lillicrap - Coagulopathy: Understanding and Treating a Novel Entity  
Drs. James (Medicine) and Lillicrap (Pathology and Molecular Medicine), leading researchers in clinical and molecular hemostasis, are studying the links between COVID-19 coagulopathy, an unexplained and potentially fatal blood-clotting syndrome associated with SARS-CoV-2, and von Willebrand Factor (VWF), a blood clotting protein. They are collaborating with researchers at St. Michael's Hospital (Toronto) and Vermont Medical Center who are studying the effects of the blood thinner heparin on COVID-19, which has been shown in preliminary research to help these patients. The role of VWF in this disorder has not yet been studied, and the KHSC and KGHRI researchers aim to gain better understanding of the mechanisms of VWF in COVID-19 coagulopathy, potentially leading to the development of new treatments.    
David Maslove and Michael Rauh - COVID-19 and the Genetics of Mortality in Critical Care  
Drs. Maslove (Medicine) and Rauh (Pathology and Molecular Medicine) are part of an international genetics study examining why some patients are affected more severely by COVID-19 than others. They will be looking at the genomes of patients admitted to intensive care units across Ontario and then comparing them to those of a healthy control population. Using advanced computing techniques, they will be able to look at hundreds of thousands of subtle genetic variations across the population, to determine which of these are associated with outcomes. Knowing more about these variations will lead to new strategies for fighting the virus.  
Martin Petkovich, Jacob Rullo and Martin tenHove - Coronavirus infection of the ocular mucosa to model infection and systemic immunity 
Drs. ten Hove (Ophthalmology), Rullo (Ophthalmology), and Petkovich (Biomedical & Molecular Sciences) are studying local and systemic immune responses to SARS-CoV-2 infection using a physiological model that will examine how the virus infects the mucosal layer of the eyes. They will also determine the efficacy of administering a vaccination via this route to see if it generates systemic immunity against coronaviruses, and then use these results to study how the disease progresses in vaccinated and non-vaccinated models.    
Stephen Vanner and Prameet Sheth - The application of metabolomics to enhance detection of COVID-19 and predict disease severity: A proof-of-principle study   
Drs. Vanner (Gastrointestinal Diseases Research Unit) and Sheth (Pathology and Molecular Medicine) will use specialized mass spectrometry to study the metabolites found in nasopharyngeal (upper throat) samples of COVID-19.  Their aim is to identify the unique signature of these tiny molecules, compared to other causes of respiratory infections such as the common cold. This metabolomic signature holds promise as a more sensitive, rapid and accurate identifier and predictor of the severity of the disease than current methods. It will also enable future studies on COVID-19 detection, prediction of disease severity, and virus identification in asymptomatic individuals. 
These projects are examples of research confronting COVID-19 being undertaken within the Kingston and Queen's community. The Vice-Principal (Research) also recently announced the first round of results for the Rapid Response competition, fund and support research projects that will contribute to the development, testing, and implementation of medical or social countermeasures to mitigate the rapid spread of COVID-19.