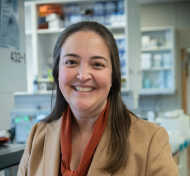 M. Daria Haust Lecture - KATHLEEN BURNS, MD, PhD - Tuesday, 25 May 2021, 4:00 pm – Via Zoom
KATHLEEN BURNS, MD, PhD
Chair, Department of Pathology, Dana-Farber Cancer Institute,
Professor of Pathology Harvard Medical School
"Building and wrecking genomes"
Tuesday, 25 May 2021, 4:00 pm – Via Zoom
Dr. Kathleen Burns is the Chair of the Department of Oncologic Pathology at the Dana-Farber Cancer Institute and a
Professor of Pathology at Harvard Medical School.
She received her M.D. and Ph.D. degrees from Baylor College of Medicine and was recruited to Johns Hopkins
University School of Medicine for clinical pathology (CP) residency and hematopathology fellowship. Thereafter, she
joined the faculty at Johns Hopkins, progressed through their academic ranks to Professor, and served as the
Pathology department's Deputy Director (Vice Chair) for Research and the institution's Physician Scientist Training
Program (PSTP) Director until leaving for Dana-Farber in 2020.
The Burns laboratory is focused on studying mobile genetic elements in human disease. Her group was among the
first to develop a targeted method for amplifying mobile DNA insertion sites in the human genome, and they study
functional effects of inherited mobile element insertions using a combination of genetic approaches and molecular
biology. The lab has also shown that the expression of long interspersed element-1 (LINE-1) open reading frame 1
protein is a hallmark of human cancers, and that somatically-acquired LINE-1 insertions characterize cancer
genomes. Her group is currently studying consequences of this activity on cancer cell biology, and seeking avenues
to translate our understanding of this basic biology to inform approaches to diagnose and treat cancers.
Dr. Burns has first or senior authored papers in highly cited peer-reviewed journals, including Science, Cell, Nature
Medicine, Nature Structural and Molecular Biology, and Proceedings of the National Academy of Sciences. She has
authored reviews for Nature Reviews Genetics and Nature Reviews Cancer and organized several major scientific
meetings in her field. Her group has been supported by the Burroughs Wellcome Fund and multiple R01 awards
from the National Institutes of Health. She is the Scientific co-founder of Oncolinea Pharmaceuticals, Inc. a
biotechnology startup company focused on discovering new therapies for LINE-1-expressing malignancies.
Contact Barb Latimer (bal@queensu.ca) for the meeting link.