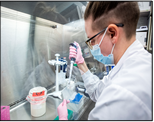 KHSC Laboratory Services receive four year accreditation
KHSC Laboratory Services receive four year accreditation Kingston Health Sciences Centre (KHSC) laboratory services has received full accreditation for another four-year period. "Achieving these results was a collaborative effort by all laboratory staff, as well as departments across KHSC, and speaks to the wide engagement of stakeholders that were involved in preparing for this accreditation process," says Joyce deVette-McPhail, Administrative Director of Clinical Laboratory Services. "The accomplishment was no small feat, especially given the challenges of preparation amidst COVID-19."
KHSC laboratories were put to the test earlier this month by the Institute for Quality Management in Health Care during a four-day accreditation process, which was conducted for the first time by virtual peer assessment due to the ongoing pandemic.
"The assessors also reached out virtually across the hospital to talk with staff to see first-hand how our laboratory policies and processes work in practise," said deVette-McPhail. "They visited numerous departments and through these conversations they saw first-hand how everyone across KHSC has a role to play in helping us meet and excel on our standards. Staff have a strong awareness of all the various accreditation requirements and it becomes natural to implement these quality requirements in all aspects of patient care. The accreditation process helps the entire organization work together to create a focus on patient safety and continuous quality improvement. KHSC patients ultimately benefit from this strong commitment to safety and quality."
There were many areas of the laboratory operations and services that impressed the accreditors including KHSC's focus on risk management and electronic document control. For example, the OMNI software system has 5,000 policies and procedures which cover the large scope of practice of the clinical laboratories.
"Laboratory test results impact many areas of people's daily lives," says Dr. Sandip SenGupta, Medical Director of Clinical Laboratory Services. "Accreditation enhances public confidence in those test results and elevates the integrity of the medical diagnostic testing system by providing rigorous, objective, third-party evaluation according to international standards. To have achieved a four year accreditation shows the level of dedication and daily commitment of our staff and faculty across multiple disciplines to transform care together."
Assessors reviewed standards for compliance with systems, processes and procedures in each of the 11 laboratories, Point of Care Testing, and phlebotomy at KGH site; as well as the GI Function lab, Moh's Clinic, phlebotomy and blood dispensing services at HDH site